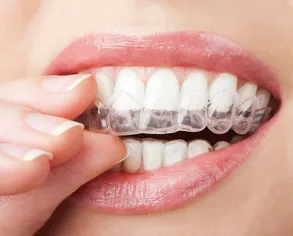 Invisalign® in Farmingdale, NY

LI Dental Solutions is an Invisalign dentist in Farmingdale, NY.
Invisalign is a new system of straightening teeth without the use of conventional braces. It is recommended for orthodontic situations with mild to moderate spacing or crowding. A series of clear plastic aligners is utilized to gradually and systematically move teeth into the correct position. They are worn over your teeth and are virtually undetectable. You can easily remove the aligners when you are eating or brushing your teeth. Invisalign is quick and easy and keeps your smile looking natural all while straightening your teeth with minimal effort.

Benefits of Invisalign
Invisalign has many benefits and is an easy way to get the smile that you want. Some benefits include:
• Fast Treatment Time
• Minimally Invasive Treatment
• Unrestricted Diet
• Ability to Brush and Floss Easily
• Few Lifestyle Changes
• Discreet Treatment

With Invisalign, you have the ability to eat and drink anything you'd like without restriction, as long as you remove the aligners while eating. Invisalign won't impact your day to day life and won't cause you to change much about your normal lifestyle.
What to Expect During Invisalign Treatment
Depending on the prescribed treatment plan, you will be instructed to wear a new set of aligners approximately every two weeks until the process is complete. While every case is unique to each patient, treatment typically takes approximately a year for adults.
It's important to understand that Invisalign treatment requires full compliance from its wearer for it to be effective. Although aligners are removable, making it convenient to brush and floss your teeth and enjoy meals without worrying about your braces, you still need to wear your aligners for about 22 hours out of the day in order to see results.
Call LI Dental Solutions in Farmingdale today to schedule a consultation to see if you're a good candidate for Invisalign!
If you are interested in straightening your teeth with Invisalign® aligners from LI Dental Solutions, call our Farmingdale, NY office at (516) 694-2106 for a consultation today!